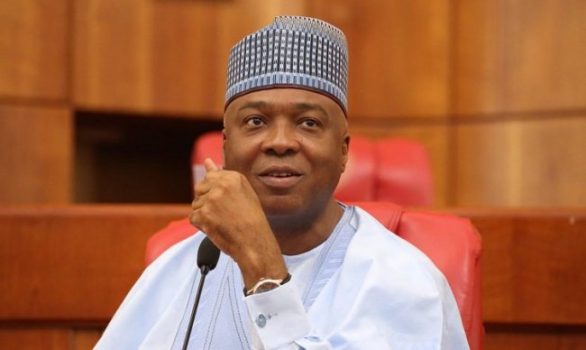 Senate President Bukola Saraki has denied a report claiming he had decided to enter the 2019 presidential race.
The Boss Newspaper, with former presidential candidate, Dele Momodu as publisher, claimed Saturday in a "world exclusive" report that Saraki had decided to contest for president in 2019.
"The Boss can exclusively reveal that Senate President, Dr. Abubakar Bukola Saraki has joined the 2019 Presidential race", the report stated.
Momodu also attempted to add traction to the story by sharing the link via his twitter handle, as captured below: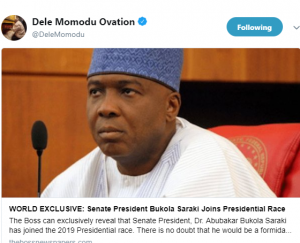 But when contacted by Ripples Nigeria on Saturday night to respond to the development, Yusuph Olaniyonu, Special Adviser, Media, to Senate President Saraki, dismissed the report as false.
Olaniyonu unequivocally said, "Lies. Ignore. No such thing".
It is not clear what the source of the news is, but given how intense the tempo of the 2019 election build-up is, such reports will only further raise speculations especially because they revolve around a powerful political figure known for his ambition, and one who has endured strained relations with other power blocs within his party, the ruling All Progressives Congress (APC).
The fallouts remain to be seen.